Reversible Reduction Gearboxes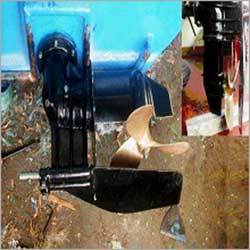 Reversible Reduction Gearboxes
Product Code : RRG 01
Brand Name : NATIONAL INNOVATION FOUNDATION
Reversible Reduction Gearboxes
We offer a wide range of Reversible Reduction Gearboxes. Majority of the fishermen use conventional boats operated through petrol starts kerosene run diesel engine. These boats had inbuilt gear box and diesel engines with long tail propeller system without gear box. It consumed high amount of fuel and polluted the water.

Innovator has developed a reversible reduction gearbox and a manually tiltable Z-drive system for small capacity diesel engine. The use of this system reduces the daily fuel cost by about 60 to 70% by enabling them to shift from a kerosene run outboard engine system to a diesel powered inboard engine system.

Technical Specification
Reduction Gear 2:1 and 3.3:1
Manually tiltable Z- drive propeller
Speed: 17-18 km/h for 34 feet fishing boat
Four types of gearboxes ranging from 1.5 hp to 30 hp
Saves 60 to 70% fuel consumption compared to kerosene run marine engines

Salient Features

• Absolutely pollution free as compared to the conventional kerosene/petrol engines
• Reduces loss of power through horizontal shaft power transmission.
• Smooth drive and better maneuverability due to lesser gearbox weight
• The reverse gears acts as brake & helps in parking.
• The reverse gear facilitates in taking short curve while turning.
• Smooth power transmission and more convenient to use.



Contact Details
NATIONAL INNOVATION FOUNDATION
National Innovation Foundation - India Grambharti, Amrapur, Gandhinagar-Mahudi Road,Gandhinagar - 382650, Gujarat, India
Phone : +917259245913
Fax : 91-2764-26731903
Mr. Tushar Gerg (Senior Fellow)